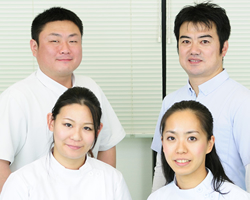 At Toyo Conditioning we try to relieve speedily the suffering of people with physical aches and pains. In recent times a large number of illnesses are the result of mental health problems and we hold regular study meetings to improve our knowledge and skills for treating these illnesses.


Keita Kagaya

Born in February 1970 in Akita Prefecture
"Authorized trainer of advanced QPR treatment" for seitai treatment for mind and body
Director of the Brain and Body Balance Research Institute
Completed the "Expert Course" at the Japan Recovery Seitai School
SBT 1 grade coach authorized by JADA ? "Japan Ability Development Analysis Association"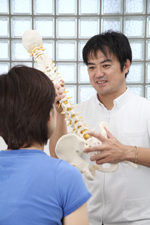 When I was at high school I suffered from such awful back pain that I was put in a wheelchair and spent some time in hospital. In spite of this I still aspired to play for the famous baseball school of Akita Shogyo High School in the Japanese High School Baseball Championship.
That experience, coupled with my having acquired the skills of "mind and body seitai treatment and QPR treatment" has given me confidence in my ability.
Our treatment is highly effective and long-lasting because it rids the body of distortion and heals obstructive factors such as pain felt when moving and badly working joints.
In order that you can give yourself the daily care which is necessary for speedy recovery, we will give you instruction in how to look after yourself.
Please feel free to make use of our services.

Mami Okayama

Born in Hokkaido
"Authorized advanced QPR practitioner" of seitai treatment for mind and body
Director of the Brain and Body Balance Research Institute
Completed the "Expert Course" at the Japan Recovery Seitai School
Involved in competitive dancing since childhood, Ms. Okayama represented Japan at competitive dancing at high school level.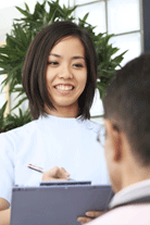 In my final year at university I was looking for a job which I could do while continuing with dancing. I consulted Mr.Kagaya who was my trainer at that time and thought that the knowledge and skills of seitai treatment would also be useful in dancing, so I set my sights on becoming a seitai practitioner.

After that I was faced with the suffering of the many people who visited the clinic, and I noticed the common ground that exists between improving physical performance for dancing and making a body which has no pain.

Since then I have merged methods used in seitai treatment for symptom improvement with methods used in competitive dance to improve physical performance, and as the general manager of the Self-care Research Department at Toyo Conditioning I have developed original treatment programs based on the theme of "Safe, simple, and highly effective self care for everyone" so that our customers can recover from their symptoms at the earliest opportunity.

I use my experience gained from my many years of dancing and my experience as a seitai practitioner to do my utmost every day to help both professional and amateur dancers to look after their body.

Ms. Okayama, the clinic director at Toyo Conditioning was selected for the Japan Dance Sport Federation's intensive training program during fiscal year 2012.

While being very busy as the director of the Toyo Conditioning clinic in Tokyo, Ms. Okayama is aiming to become the Japanese national champion in competitive dancing.
Toyo Conditioning is located in the Kanda district of Tokyo which is convenient for transport access by subway or JR lines. It is also easily accessed from sightseeing spots such as Akihabara and Asakusa. Please feel free to come and visit us.